Aquarians have a rebellious nature, and are eccentric, spontaneous and original. They are forward thinking and detached, and can seem conservative though they really are not very much so. They are scientifically minded and logical, and confident in manner.
Aquarians are likely to be years ahead of their time in the way they think. They can also appear to be more involved with work than with other people, although they truly value social contact.
Aquarians are intuitive, imaginative and inventive, and inclined to take chances, especially in the service of their goals. They can be quite noble in their deepest nature, but also may come across as critical and demanding. Their highest purpose is found in aligning themselves with the advancement of social and humanitarian ideals.

Aquarius Horoscope for August 2017
This is a huge month for you, Aquarius, with the eclipses of August illuminating your seventh sector of relationship and interpersonal connection. Communicative outreach of all kinds is highlighted for you, especially after the 21st. The first three weeks of August could in some ways be considered as preparation for that final week, a time when significant relationships are emphasized, as well as the new perspectives that they bring. These factors peak with the Full Moon and lunar eclipse of August 7th, which is quite powerful for you, representing a culmination of relationship initiatives...
Continue Reading Aquarius Horoscope for August 2017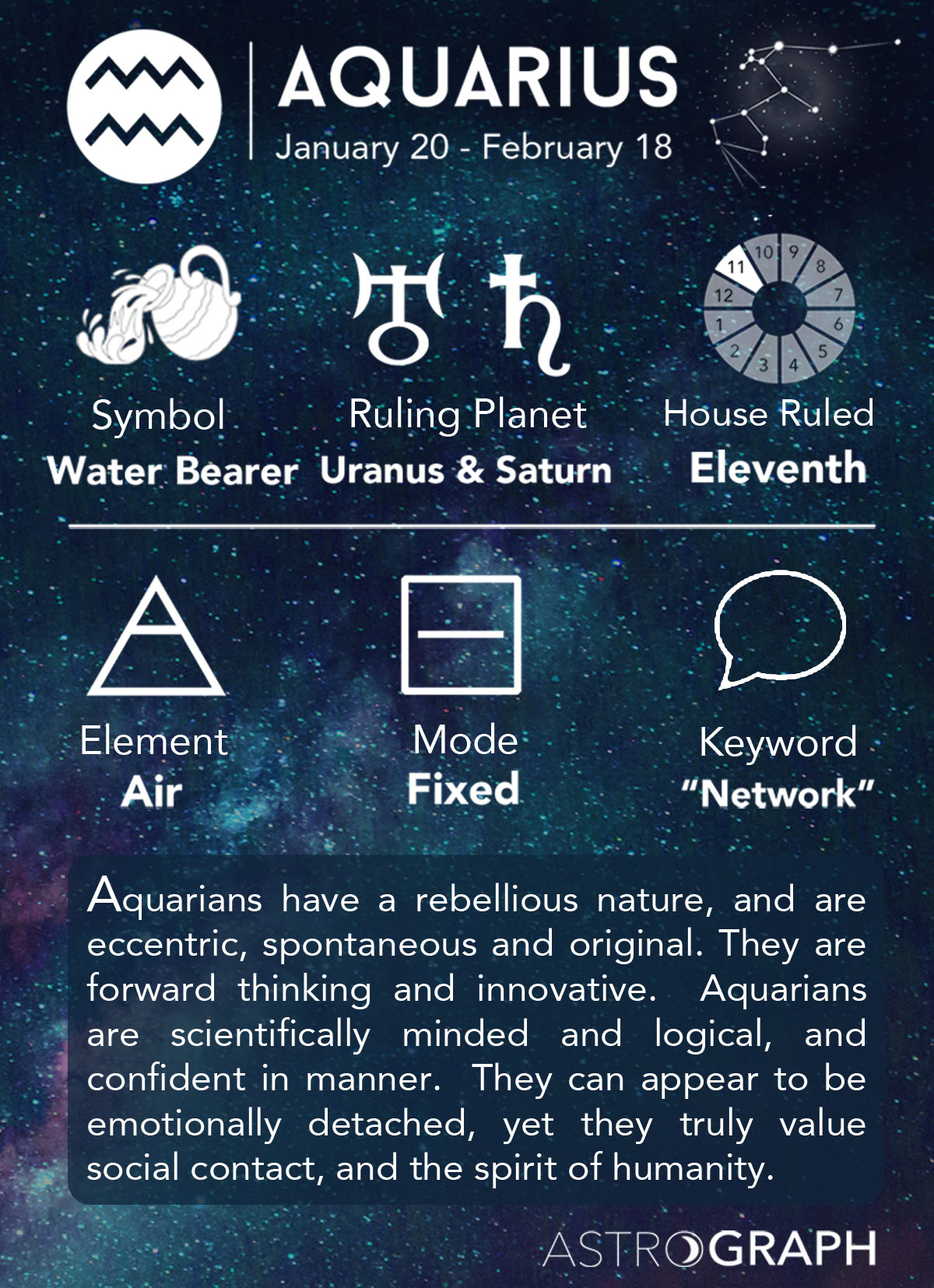 Aquarius Period: January 20 - February 18
Aquarius Mode: Fixed
Aquarius Element: Air
Ruling Planets of Aquarius: Uranus and Saturn
House Ruled by Aquarius: Eleventh
Aquarius Polarity: Positive
Most Compatible Zodiac Signs: Libra, Gemini, Sagittarius, Aries
Least Compatible Zodiac Signs: Taurus, Scorpio, Cancer, Virgo
Opposite Zodiac Sign: Leo
The Astrological Elements and Modes
The element related to Aquarius is Air.

The Air element is the masculine or yang energy representing the breath or prana - the realm of ideas and archetypal associations that link the physical and non-physical world together. It corresponds to the Jungian typology of Thinking. All forms of relationship and thought fall within its purview. Air people tend to live in their heads, being logical and scientific, as well as curious about what is around them and detached in their outlook. They dream the world into being with their future-oriented conceptions. They choose all parties to a dispute rather than taking sides, and thus provide the social linkage that can join disparate groups to each other.
The mode of Aquarius is Fixed.
Fixed signs are in-taking rather than outgoing, receptive rather than originating. People with many Fixed signs tend to be stubborn and difficult to sway from their intended course of action.
The Ruling Planets of Aquarius
The ruling planets for Aquarius are Uranus and Saturn.

Uranus is the planet of freedom and revolutionary vision, the urge for change and the ability to visualize new possibilities. Uranus rules Aquarius, and is exalted in Scorpio. It is also associated with mental studies, electricity and astrology. Its position indicates the arena of originality and freedom from conventional thinking in your life.
Saturn is the planet of limitation and contraction, and the trials of life experience. This includes disciplive, punctuality, and the conservation of material resources. Saturn rules Capricorn and is exalted in Libra, and is limited and material, versus unlimited faith (as represented by Jupiter). It indicates areas where the personality will be restricted by fears and lack of confidence, and also areas which are important to be worked on in this lifetime.